With a history stretching back nearly 2000 years, screen printing is more than just a trade, it's an art form. If you're a screen printer, you're carrying on a proud tradition and you need a web presence that matches the quality of your work. If you choose a web designer who specializes in the printing industry, you'll benefit from the expertise of someone who understands your business and knows what elements are needed to create a high quality website for a screen printer or a screen print shop. A web designer who understands the screen printing world will understand what questions your customers will be asking and what information they want to see before they decide who to take their business to. It is wise to find a company that specializes in making websites for screen printers.  Your website should present your expertise to the world and market your skills to the people who need them. Of course, you might regard your website the way you used to regard the local classified ads, or the yellow pages – a place to put a static advert and hope that it gets found by the people you want to sell to. But with newly developed online sales platforms, there are now many more opportunities for printing companies than have ever previously existed. With a specialist web to print eCommerce website, you can place the whole process online from design to fulfilment and open up your business to the world.
If you haven't yet made the move to an eCommerce website, you may be wondering if it is right for your business. Maybe you just want a site that will tell people where you are and when you open and leave it up to them to get in touch. Perhaps you still rely mainly on word of mouth for most of your business and worry that, without the personal touch of the traditional printer-customer relationship, you'll lose something important. The problem is that modern customers are no longer content to wait for the local print shop to open. The online world is an on-demand, always open marketplace and, if you want your business to really thrive, you need to be in the middle of it. With a high end web to print site, your customers can design and order a consignment at whatever hour of the day or night suits them. Your regular customers can still come into the store and discuss their orders in person, like they always have done, but that doesn't mean that you should miss out on the wider market that's out there. You might just want to appeal to local businesses who haven't found you yet, or to potential customers in the surrounding area who want to research and place orders online before making the trek into the city. On the other hand, you may be ready to take the plunge into a world of global orders and international shipping, where the sky's the limit.
The web2ink.com eCommerce solution is the product of a wealth of industry experience and years of development. The design tool is feature rich, easy to use and flexible, allowing your customers to customize their designs in whatever way they choose. They can add images and text and get everything just right before they order – not only does that save your customers time, it saves your staff time, since many of the processes, such as design and proofing are automated. Your customers will love the freedom to upload and tweak their images from any device, and you can be confident that they are fully satisfied with the design before you print.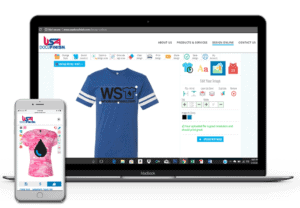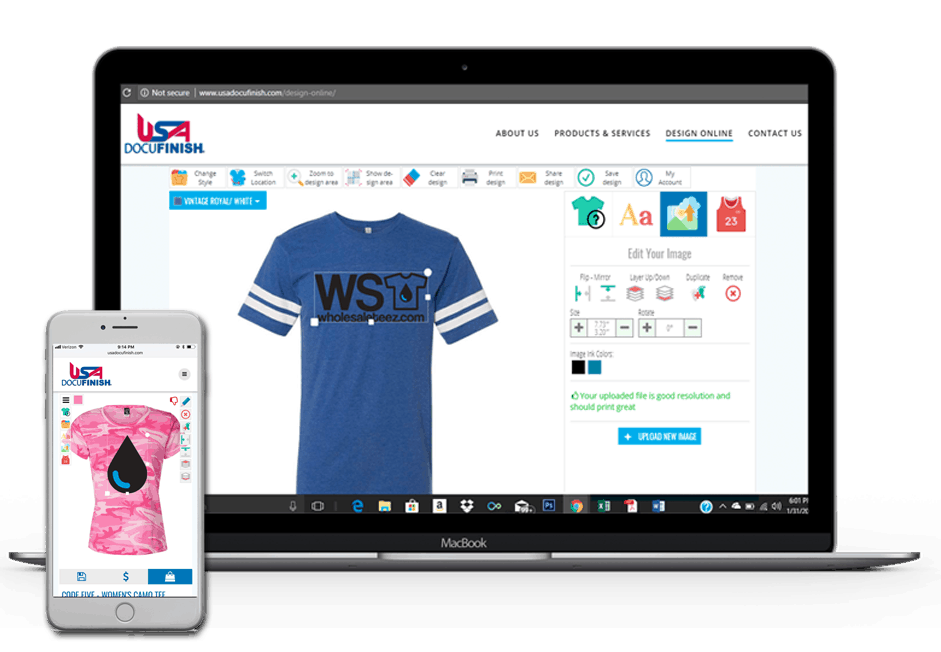 With a web2ink.com eCommerce website, you don't just get a website, you get a complete business package that takes your customer easily through all the stages of designing and placing an order and supplies you with all the information you need in an integrated order management system. You can view and process your orders, prepare proofs, plan the work schedule and have everything organized just the way you want it. Our system will be tailored to your business, with your choice of additional features, such as automated shipping. Whatever you need, we'll design it into your package before we install it, so you know that you're getting an eCommerce solution that's exactly right for your business.  The prices to set up a new website for your print shop may surprise you as well.  See The Web2ink Prices here.  To have a web design firm create a web to print platform from scratch will cost in the tens of thousands of dollars.
And, of course, our design expertise doesn't just extend to giving your customers the tools to create their perfect order. Your website itself needs to be individually designed to showcase your unique brand at its best. Our designers love making beautiful websites for screen printers. After all, it's always an exciting challenge to create the perfect website for someone who really knows what design is all about. We will give your business the web presence that you deserve but, of course, once the website is up and running, that's only the start. You can rely on our lifetime customer support, if you should need us for any maintenance issue.
Just as importantly, we want to help you market your website to the world. We base our platform on the best SEO web management system in the world, WordPress, so your site has the best possible start in life. We also offer a specialist marketing service, with flexible monthly plans, including work, traffic and ranking reports as well as regular, new and original SEO optimized content, specially tailored to the needs of the print industry. We understand what your customers will be searching for and we build findability into your web presence. We make sure that search engines will not only find your site in the general mix of print shop websites, you will also have a recognizable local presence. Specialist local SEO means that your page will always display above national competitors in local searches using search engines such as Google and Bing.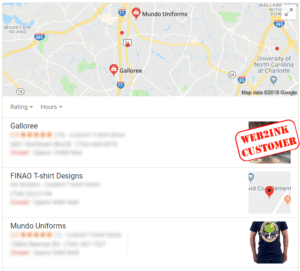 Our marketing services also include link-building, one of the most important elements in putting your website at the top of the search results. It's vital that your website is seen by the search engines to be a connected and relevant part of the online world. Links from local businesses, happy customers, local charitable organizations and resources, along with suppliers' trade bodies and, of course, social media are all useful and it's worth the effort of cultivate these contacts. You can do this yourself, of course, but it can be a time-consuming business. If you do decide to build links yourself, beware of certain pitfalls. The links need to be good quality. Don't be tempted by dubious 'easy' options that are available from some of the web's less scrupulous operators. Tactics such as buying links or other seemingly attractive shortcuts might give you a temporary boost in search engine rankings but they could result in your site being banished from search results altogether. Google and the others have had a long time to develop ways of catching the SEO cheats. They have ways of telling the difference between a genuinely useful connected site and a link farm. It really is much better and safer to earn links the hard way.
Other local businesses are in the same position as you, so an agreement to link to each others' websites is a good starting point. Just to be clear, the links should look like a natural part of the website. Gone are the bad old early days of web design when every site had a 'links page' which was of no interest to anyone other than those who were similarly desperate to share a connection. Your links might be included in a news article about local events – an especially perfect fit if you happen to have supplied organizers' shirts or other printed items for the event. It's always good to kill two birds with one stone. If you can showcase your work and get some links at the same time, then it's definitely worth doing.
Blog pages are not just a good way to add content but, with a bit of thought and a careful choice of blog topics, they can potentially create a few additional linking possibilities and an increasing number of businesses are adding them to their websites. Of course, a blog page that was last updated four years ago is no good to anyone, so only use this option if you're definitely going to add new posts on a regular basis. You can write the blog posts yourself or outsource the job to someone else. We can produce blog posts or other content as part of a web2ink marketing plan.  After all the internet is all about one thing, content, see for yourself in this article on Forbes. Feel free to get in touch and discuss your content needs with us.
Social media is, of course, a huge and vital part of the modern online marketing effort. Having a Facebook page is a must, of course but there are lots of other social media platforms that are great ways for screen printers to network and showcase their skills. The social media for business platform, LinkedIn, is an important tool. Your potential corporate customers probably have a presence here and may well already be using it to find your competitors. You need to join up too, so that next time, they'll find you! You might think that Instagram is just a place for teenagers to post holiday photos but it's become so much more than that. You can use it as a handy portfolio to showcase your work and attract new business. As well as the major social media platforms, there are many smaller ones – some specific to a local area, others to an interest group or an industry. You can't join all of them, and nor should you try, but it's worth checking out a few, to see which ones are a good fit for your business. We can help you with this, as well, creating a tailored social media plan to keep your business on top of the latest marketing developments.
If you're finding the prospect of developing an online presence a bit daunting, then don't worry. We're in the business of supporting and helping our customers, not selling them something complex and then leaving them to it! The web2ink.com service will give you a flexible introduction to doing business online, starting, of course, with your shiny, new eCommerce website. When you first make contact with us, you can tell us what stage your business is at now and exactly what you are hoping for. With a few more details, we can begin to craft a plan for your future online development. That part of the process will take as long as it takes to get it right. We can offer suggestions but what we want is to provide what you need to thrive, so you can decide to give us the go-ahead when you're happy with the plan. You may have need of some features but not others. Your system will be tailored to you. It won't have annoying 'dead' buttons because you didn't take a particular option and the add-ons that you do want won't be hidden three links away from where you need them because they're not a normal standard feature.
The actual build of your site will usually take around a week. After that we test, review, show you how everything works and make sure that you're confident about using the system. We'll run some dummy orders, so that you can get some practice and we can make sure that everything is working as it should. Then, and only when we're certain it's as good as it possibly can be, it's all systems go and we launch!
Each of our plans includes high-speed, scalable hosting and top-class customer support for your peace of mind. Of course, if things don't work out, there's a 30-day money back guarantee, because we're confident in the quality of our service and we want you to feel secure.
With the website in place, you can talk to us about marketing plans and future development as and when you want to. Your web presence can grow as your business does and we'll be there every step of the way to make sure that your eCommerce website continues to meet your requirements. Contact us with any questions, we specialize in making websites for screen printers.