Outsourcing is not a bad word, don't be afraid of outsourcing.
One of the fundamental truisms in the quest for success in any business is that you have to play to your strengths. Sometimes this means that, even if you can fulfill a task, it isn't necessarily the best use of your time and effort to do it, if someone else can do it better, faster or cheaper. And even if they can't do it better than you, it may simply be something that will distract you from a much more useful task that will bring in more revenue in the long run if you allow yourself the opportunity to get on with it. This is part of the rationale behind the phenomenon of outsourcing, which has taken over the business world in the last thirty years.
Outsourcing really began to develop as an answer to an ongoing modern problem. Increasingly, the ability to fulfill a business function in the optimal way has become dependent on access to the latest technology. If you invested in new software or machinery just before the game changing new version came out, then your business would suffer, in competition with the company that waited and bought the new technology…but they would live with the fear that the next new thing might be just around the corner, ready to make them obsolete in their turn. The solution that outsourcing introduced was to let each business focus on their core function, outsourcing the peripheral functions to specialist enterprises. That way, it would be up to these, specialist companies, to bear the cost of the new technology. As experts in their field, they would be best placed to know when to invest and which option to choose and the cost of the investment would be covered by the fees that they would then charge for their service, spread between multiple different clients who would, hopefully, pay less overall as a result than they would have done if they had retained this function in house, with all of the extra equipment, staff and building costs that that would entail. That was the theory, in any case.
In the western world, outsourcing came to be associated with a different phenomenon and became something of a dirty word to a lot of people. The problem is that it's not just machinery that costs money – people do, too. With staffing costs in the developing world a small fraction of what they are in the west, many businesses realized that they could shut down their existing operations and relocate somewhere altogether cheaper. The job losses that followed have not been forgotten and the very word 'outsourcing' is still regarded as toxic in some circles. So, why are we talking about it now and why on earth should a print shop consider outsourcing to other printers?

Offer more custom printed products on your website by outsourcing.
Well, the answer is that outsourcing still works, as it was originally conceived, so long as it's used wisely. It is still a good method of playing to your strengths, while letting someone else handle the other tasks. New advances in online design software, such as the web to print software supplied by Web2ink mean that you don't even have to run a print shop to be in the business of selling custom print online. You can simply handle the front end – the website, marketing, admin and customer relations – while outsourcing the actual print work to someone else. Of course, this might seem to turn the original concept of outsourcing on its head, if you assume that the core function of a printing company is to print. And you'd be right, up to a point. The thing is that the core function of a business selling custom print online is 'selling'. This can be a good deal from the print shop's point of view, as well – with someone else getting on with the irritating business of dealing with the public, the printers can get on with what they do best – printing.
For those print shops who do want to take their products directly to the online public, there are some great new options by way of eCommerce for printing companies. Web2ink can design a website for you with fantastically user friendly web to print software, enabling customers to create their own design and place an order for it to be printed onto their choice from your range of products. With the new sales opportunities that this new technology gives you, you might consider expanding your business to add more customer options, such as embroidery or large format or screen print…but hang on. If those aren't already your areas of expertise and you don't already have the equipment and skills required, why not look for an outsourcing partner who does already have that capability? With an online ordering system that can include a complete back office system to keep track all of your data in one place, introducing multiple suppliers into the process can be a relatively painless operation.
Whatever your starting point, if you're in the business of selling printed goods and you are outsourcing some or all of the print work itself, you will need to make sure that you have more than one outsourcing partner for each skill set, since you can't afford to lose business if one of your printers is faced with an equipment failure or has a backlog of work from other sources and cannot accept your latest order. Unlike some other functions that you might choose to outsource, this one will need multiple back-ups to ensure that you are able to fulfil your orders with the minimum of disruption. Ideally, you should look for two or three vendors for each of the product lines that you have chosen to outsource. So, for example, you might want to find two or three screen printers, two or three embroiderers and two or three large format printers to make sure that you can handle all the work that comes in as efficiently as possible.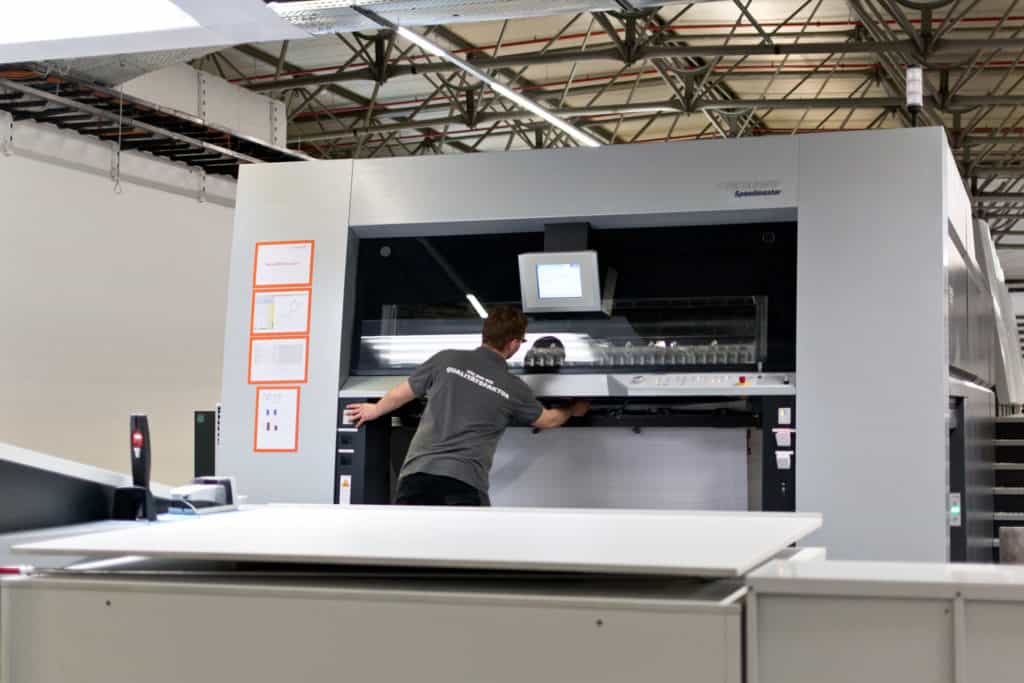 Properly vet your print partners for long term success.
Depending on how you are planning to organize your shipping and handling, you may decide that you want to source all of these vendors from within your local area, to enable you to ship multiple different items together. Realistically though, you would probably be better off choosing the vendor you feel you can work best with, even If they are located in a different state, rather than a local vendor that you do not feel entirely happy with. If you can arrange with your vendors that they will ship goods direct to the customer in your branded packaging, then that would be a better option than wasting time having everything shipped to you for final distribution to the customer. If that means that the customer receives their order in different packages and from different locations, that is unlikely to be a problem. In fact, it may actually improve your brand image by making your business seem to be a larger concern with multiple sites. Modern consumers are used to receiving packages from a variety of different supply depots and third party couriers. So long as the goods are delivered in a timely fashion, well packed and protected from the elements and other sources of harm, that is all that most customers will care about. A packing slip that explains that the enclosed goods are shipment '1' of '2' or however many different lots the order ends up being split into will be enough to calm any nerves about incomplete orders and will probably make your business seem even more professional.
Selecting your outsourcing partners is something that you will need to take time and care over. You will need to research their businesses thoroughly before entering into an arrangement with them. After all, your business will depend on them keeping up their end of the deal, so you need to be confident that they can be trusted to deliver. It's important that the vendors you choose are actually wholesale printers, with an understanding of the wholesale market and the realities and obligations that result from being part of a supply chain. A truly wholesale supplier should be willing to negotiate a realistic pricing structure, based on their ability to take advantage of economies of scale. They should be familiar with the relationship between end user, distributor and printer and know that it's in their own interests to make sure that their part of the chain moves smoothly.
As with any important business decision, you will need to exercise due diligence when approaching a potential outsourcing partner. If they are not happy to let you have details of their company's financial status, for example, you'll need to know if this is because they are struggling to stay in business. That, in itself, wouldn't necessarily be a reason to avoid dealing with them – after all, the extra work they get from you might be what keeps them going, but they need to be open about their situation.
The financial arrangement between outsourcing partners can take several different forms, reflecting different degrees of inter-dependence. If you expect a printer to always be ready, outside of unforeseeable circumstances, to take on the work that you put their way, then they may require some form of retainer payment to guarantee that they will always be willing to prioritize your jobs. If you're happy with a more ad hoc arrangement (especially if you have covered your requirements by lining up several potential printers for any given job, so that you would be extremely unlucky if none of them were available to take it on), then a straightforward payment per job arrangement will probably be more suitable. Whether you pay in advance or on completion will depend on a number of factors, including your perceived importance as a business partner to the vendor, and vice versa, the size and complexity of the jobs and other issues, specific to your and your vendors' situations.
As with any outsourcing arrangement, outsourcing print work only makes sense if you cannot, realistically, complete the same work for the same (or a better) price. You will be handling the marketing, admin and customer relations pre and post order, providing your vendors with a relatively hassle-free source of work. This should be reflected in the wholesale price that you are able to negotiate for the finished goods that they supply. If you're already established within the printing world, then you should already have a good idea of the costs associated with the work, even if it's outside your own company's usual skill set, so this should be a fairly easy discussion for you. On the other hand, if you're coming to the world of selling custom print online from some other background, then these pricing negotiations will probably be more difficult – wily old printers may see you coming and think that they can get the better of you. You may need to seek advice from old hands in the printing industry, in order to make sure that you get the best deals from your outsourcing partners in the early stages. Of course, once you've found your feet and finalized the first few deals to your satisfaction, these negotiations will get easier and any vendor who tried to take advantage of your inexperience in the early days will probably end up regretting their short sightedness!
If you've sourced your web site from web2ink, then you are moving into the realms of eCommerce for printing companies with the help of a unique team – a partnership of web design and printing experience. Web2ink can offer further help in growing your business, including marketing plans, with search engine optimization, including local search engine optimization and advice on how to use social media to get your site 'liked' and 'shared' by as wide an audience as possible. Contact Web2ink to find out more about any of these issues.